We Specialize in 5 Axis Wire EDM Services
Cutting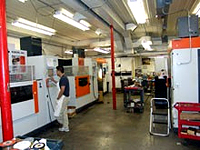 Wire EDM is referred to in many ways: wire cutting, wire burning, and traveling wire EDM. Regardless of the name, the process uses electrical discharges traveling along a brass or zinc-coated brass wire to very accurately cut and simultaneously remove material from a work piece.
Michigan Wire's EDM machines are automated and operate seven days a week, so a small staff can supervise a large number of machines cost effectively. We do low volume and high volume, simple and complex shapes.
EDM will work on any conductive material, including aluminum, brass, carbide, copper, steel, and titanium.
Drilling
We drill very small holes using the same technology. This technology works well for boring ejector holes, coolants, and start holes for Wire EDM. EDM will pierce materials that cannot be conventionally machined.
We support:
Hole diameters from .008 and up
Part heights up to 14 inches.
Milling
In addition to the great service offerings we're known for, Michigan Wire now does 3 and 5 axis milling.